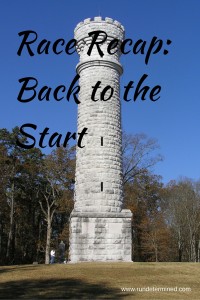 My run last weekend took me back to where it all began 10 years ago this month.  10 years?!?!  Has it really been 10 years since that first race?  It seems like just yesterday.  Yet, I can't even imagine my life, the lessons I've learned, the people I've met, and the journey I've made before running.
Runners are some of the most courageous, determined (okay, maybe stubborn is a better word), caring, and selfless people in the world.  And 10 years ago this month, at this very course, a very special runner did an incredibly selfless thing to help me get to the finish line of my very first race.
It was a cold morning at Chickamauga Battlefield in Ft Oglethorpe, TN.  I'd only begun my running journey a couple of months before, and I was very nervous about finishing my first race.  My husband and I were planning to run the Battlefield 10 miler that day, but the childcare we'd arranged for our kids had fallen through at the last minute.  I told him to go ahead and run since he'd been training for a long time and was running with some buddies from work.  We talked to the race organizers who said it was fine for me to start late since there would be a marathon on the same course that day.  So he would run his 10 miler first, and then I would start so one of us could stay with the kids the whole time.
I kissed him goodbye at the start all the while longing to be starting with him.  The kids and I made our way to the post race building where we could stay warm while we waited for him.  As I tried to figure out ways to entertain the kids, my nerves continued to dismantle my self confidence.  The thought of all those people out there already ticking off the miles and knowing I still had yet to start nearly got the best of me.  I waited about as patiently as a thoroughbred at the start line of the Kentucky Derby.  Then the door to the building suddenly burst open bringing with it a gust of cold air and…..my husband?!?  What was he doing back so soon?  Had he gotten hurt?  Was he okay?  Had he just set some sort of world record for the 10 mile distance? Continue reading →